Last Updated on 24/11/2021 by iwebsitez.com
Local SEO is not only a way that businesses can achieve visibility ahead of their competitors, it is also about generating qualified leads from individuals in your local area who are close to making purchasing decisions. It is among the most effective ways of driving visitors from online search!
To achieve this, you definitely need to show up in Google Maps and the snack pack of results, otherwise, you won't get enough qualified visits or traffic to your website. The following are the reasons why your website might not show up in Google Maps and what you can do to fix that.
Reason 1: Your Google My Business is not set up properly
Before you business will show up in the Google snack pack and Maps feed, you must get your Google My Business account set up. It is very important to not rush it, since it absolutely critical to your local efforts that it be filled out correctly.
Accuracy is one of the main concerns that Google has with local listings. Google wants to be able to confirm that the details for your business are 100% consistent everywhere that they appear online. It is the best method for Google to verify that you are actually a legitimate business.
You must type details into the fields on the form in the exact same way that they appears for your business elsewhere online.
For example, if your business name is abcwebsite.com, you should not have it show on your website as abc website and add an extra space when typing it in Google My Business. Select one format and then stick with it.
NAP details (name, address, phone number) that are inconsistent will prevent you from appearing in Google Maps. Decide on one format to use with your business details and then always use it.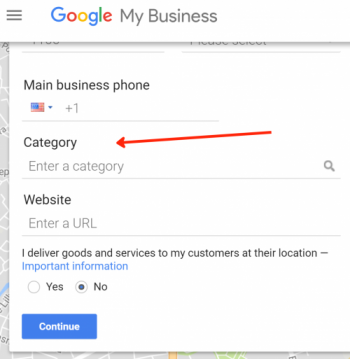 You will be asked to enter what your primary category is on the form but you can also add as many as ten additional categories to the landing page for your Google My Business account, and that helps your business be more relevant for local search intent purposes.
For example, tea room, coffee shop, and cake shop can be added as secondary categories for your company – as long as you really do provide all of the services that you are claiming.
Next, your location needs to be verified in Google Maps. Be sure to fill out as much information as possible on your Google My Business page – days of operation, opening times, etc.
The more information that you are able to give to Google, the more it will have to work with when it comes to match up your business with relevant searches. You don't want to have prospective customers showing up at your business on Sundays if you are closed that day.
If you really are the proud owner of a local restaurant, then you should have lots of material for images. Make an investment in getting some high quality pictures taken of your building, your tastiest dishes, and the interior. Not every type of business will have it that easy, however. For example, if you happen to be a recruitment agency, the key will be making your business appear as professional as you possibly can.
Don't use iPhone pictures or stock images for your building in bad weather. Use your images to set the tone and create a Google My Business page that is inviting and encourages individuals to visit you.
Reason 2: Your website is not optimised for local search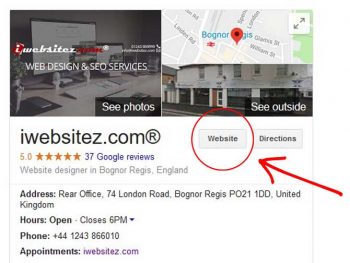 Once you have your Google My Business account completely set up, you need to start thinking about your website.
Having a website is a very good idea. If you don't have a website it wont completely stop you entirely from showing up on Google Maps, but your local presence will be hurt.
Google uses information displayed on your website (along with other sources of information) to verify the details of your business and this important reference will not be available if you don't have a website.
One thing Google really wants to see on your website is a dedicated contact page, that has all of the same business details that have been entered on your Google My Business account.
Most business has just one location, that that isn't always true. For example, a bigger company frequently will have multiple locations.
If you fall into the category of a business operating in multiple locations, then you should have a separate page created on your website for each of your locations. Your location name should be included in the page URL and all of your important NAP information should be the main content of each page. You then will want to link each of your location pages to the locations listed on your Google My Business account.
If you have just one business location, all you need to do is a link to the homepage of your website.
After you have your business location(s) and contact details sorted out on your website, you have the essentials covered. However, there is a lot more than can be done to optimise your website for local SEO:
Get Google Maps embedded on your website
Include your locations in your headings and page titles
Use your locations(s) in your blog content as keywords
Use your location(s) as anchor text for the purposes of internal linking
Use scheme markup for verifying your location
Build up a portfolio of positive reviews on third-party sources and Google
Be sure that your website is optimised for mobile and is fast
The final points are very important.
Reason 3: Your off-site local SEO efforts are falling short
You might not immediately think of off-site SEO when you are considering local search, however it does matter quite a bit. Apart from some health localised link building, Google would like to see two key things: your business listed on third-party directory listing sites and customer reviews.
Let's begin with directory listings. Those are the "other sources" that I mentioned previously that Google uses for confirming the details of your business and whether your business listing is legitimate or not for local results and Google Maps. So get on Yell, Yelp and other trusted directory websites. Make sure all of your business details are completely consistent. Otherwise you could end up doing more harm than good.
The next thing that you need to consider is to build up a portfolio of positive reviews at Google Reviews.
Apart from informing Google that you are business that is worthy of listing in their local results, having positive feedback will significantly increase your chances of being able to generate leads from local. Encourage your current customers to go to Google Reviews and leave feedback. Google Reviews can potentially help to improve your rankings.
Making sure your small business ranks in Google Maps is definitely a priority for your local search efforts, but it isn't the only thing you should be focusing on. You still need to consider brand citations and backlinks – especially when they are from authoritative, local sources. If you are unable to create the type of content that attracts links naturally, you will need to get involved with local and community sources that most likely will mention your efforts.
Finally make sure to stay current on all of the latest local SEO developments since Google has more work they need to do here. It still needs to improve how it deals with the spam listings that are in the local results and Google Maps – so you can count on there being more changes in the future.
Some of our posts contain affiliate links. That means if you buy something after clicking a link we may receive commission at no extra cost to you. Thank you for supporting our site!
Sign up & get your website on page 1
+ get access to our exclusive rank tracking app to track your keywords.