Sell products or services via ecommerce
Sell online 24 hours a day
Engage your target audience, maximise user experience and present your online shop in the best possible light with ecommerce web design.
As an ecommerce business, you need to ensure that your website is as visually appealing as possible, with great website design showing searchers that there is a trustworthy company behind the screen.
Here at iwebsitez.com, our high quality, cutting-edge e-commerce website design services are guaranteed to help your online stores stand out from the crowd, delivering maximum ROI and promising long-term results.
See pricing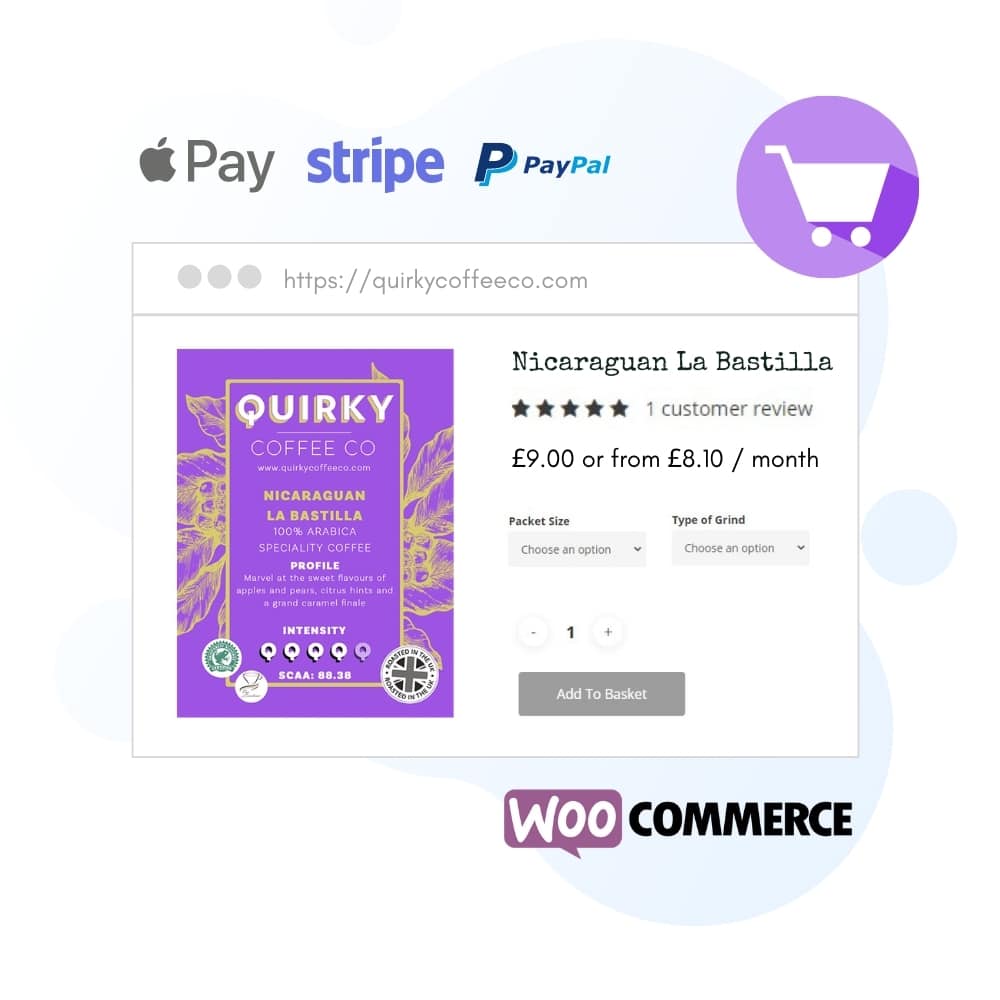 What is an ecommerce website design?
First impressions are everything
When you walk into a shop, first impressions count
If the space in question is chaotic, cluttered, and unclean, a customer is unlikely to stick around for long, never mind making an actual purchase.
The same goes for e-commerce sites. If you click onto a website and the layout is poor, or the design leaves a lot to be desired, chances are that you will bounce to a competitor site.
This is where an ecommerce web design service is needed
In a nutshell, ecommerce website design is the process of creating an online store so that your customers can buy your products online. However, there is so much more to great web design than just this.
As a specialist ecommerce WordPress web design agency, we focus on many different crucial web design elements, including brand identity, trustworthiness, visual hierarchy, well-defined product categories, great product images, and so much more.
Do I need a brand new ecommerce website?
New site or modify the existing one?
If you already have an e-commerce site, you may be wondering whether you need to start from scratch or simply upgrade your existing online shop.
Enquire now
Here at iwebsitez.com, we can help you to design a brand-new ecommerce website, or we can refresh your current one; either way, we guarantee to transform your site into a sales channel that drives results. Our team of professional web designers are up to date with all the latest web design trends, tools, and techniques, ensuring your finished website delivers the best possible user experience for your target audience.
Why choose us as your ecommerce web design company?
We have all bases covered
With so many ecommerce website design services available online, why should you choose to let us create your ecommerce site? It's a good question and one we can answer by showcasing our skills and services below.
Research
We understand how important it is to have a good website for your ecommerce business and carry out extensive research into your brand, your niche, and your target audience before we even think about starting to design your site. We want to know everything about you and your goals as an ecommerce shop so we can build the best website for you.
Functionality
Our team of talented web designers use all the latest frameworks and coding standards to ensure that your ecommerce site has the necessary functionality to maximise conversions.
Creativity
We offer unrivalled creativity when it comes to ecommerce web design and are always on the look out for new inspiration and trends that will make your ecommerce site stand out from the competition.
Responsiveness
With mobile commerce or m-commerce, becoming increasingly popular, it has never been more important to have a responsive website, meaning one that can be easily viewed and navigated on multiple devices. Our ecommerce web design service includes responsive design, or alternatively, you could choose to build a custom mobile website depending on your needs as an online shop.
Scalability
Our e-commerce websites are designed to last and will grow with your business over the upcoming years. With the option to either scale up or down with ease, you will not need to enlist the services of a web design agency again when you pick us as your e-commerce web design company of choice.
Security
Here at iwebsitez.com, every website we design is SSL secure and comes with its own dedicated IP and SSL certificate. Security is one of Google's ranking criteria, so by having a secure site, you are already one step ahead of the game when it comes to SEO. Furthermore, being SSL secure will also boost your trustworthiness and credibility with searchers, resulting in more traffic to your site.
Optimisation
A well-designed website can only take you so far in the world of search engines which is why we also offer SEO services as part of our digital marketing solutions. Providing maximum online visibility for your e-commerce business, we can help you with all aspects of SEO, including keyword research, competitor analysis, and content creation.
Testing
Just before your new e-commerce website goes live, we will undergo extensive testing to check that all elements are working as they should. This ensures that your site offers the best possible user experience and that it can immediately be ranked, preferably on SERPs. If we do discover any issues, these will be dealt with quickly and efficiently, ensuring that your agreed launch date goes ahead as planned.
Website features
We offer a multitude of website features that are each designed to improve either the usability or searchability of your site in one way or another.
Some of our most popular features that we can add to your ecommerce site include:
Search
Product features
Product ratings
Featured products
Shopping cart
Newsletter subscription
Blogs
Website analytics
Multiple product images
Navigational tools
Ongoing support
Once your brand new and improved website is up and running, we won't just disappear like many other ecommerce web design agencies. Instead, we will provide ongoing support with the maintenance of your site, offering regular updates on its progress and any other help that you need.
Ready to start building the e-commerce site of your dreams?
Get in touch with our ecommerce web design team here today and start planning for a brighter (more profitable) tomorrow.
Ecommerce websites from £1000
Sites to sell products/services online
Secure WordPress setup
Woocommerce setup
Stripe payment gateway setup
Responsive website
Modern & trendy design
SEO ready
50% deposit to start
Enquire now
Extra services
Here are some additional services that we provide upon request.
| EXTRA | PRICE |
| --- | --- |
| Google my Business setup | £150.00 |
| Facebook Business page setup | £150.00 |
| Domain names - search domains | £15.00 |
| Logo design from - buy now | £150.00 |
| Website maintenance - see the deals | £40.00 p/m |
| Business web design - learn more | £800.00 |
| Website amendments (5 min free for clients) | £60.00 p/h |
Thank you to the team of iwebsitez.com who helped me with a problem I was facing with a website I was building. I wouldn't hesitate to recommend
Benjamin C.
20:07 03 Feb 22
Incredible, fast and reliable service from an extremely professional team of experts! I would recommend anyone to iwebsitez.com if they want to be at the top of the search engine or to tweak their website to look more professional and or to their liking!
quality service. the guidance was invaluable, the website is way beyond my expectations. great professional and honest service. can't wait to continue to work with you!
Bodhi Tree A.
20:19 22 Apr 20
could not fault the work done. so professional and went above and beyond. the guidance and advise was invaluable. highly recommend.can't wait to continue working with you guys!!
Bodhi Tree A.
20:17 22 Apr 20
Pete and Lauretta absolutely understood what my business is all about. They built a website I can be proud of and one that precisely represents my company. Their patience is unending and their attention to detail incredible. I can't recommend them highly enough!
Siobhan S.
08:53 12 Feb 19
Thank you so much iwebsitez. Not only have you built my company a first class website but your dedication and kindness will never be forgotten. A professional web design company that deserves a medal as well as 5*.
Quirky Coffee C.
21:18 30 Aug 18
Amazing service! Incredible results! You will feel valued as a customer
Absolutely fantastic service. Always helpful. Should be 10 stars.
Daniel Lateu (.
17:41 30 Mar 18
Excellent service, great communication and keep us up to date with all relevant changes related to having an online presence. Thank you
Dapper Dogs F.
09:17 18 Jan 18
These guys rock, not only great web design they get your website to page 1 in search engines to get you more business. Please keep up the good work now I have left a review...
Experienced, hard working knowledgeable and honest,thanks for the awesome website and getting me to page 1,life changing stuff.Special thanks to Lauretta,you are so clever in what you do !!
These guys rock,Pete,Srik,Raf and by no means least Lauretta, not only great web design they get your website to page 1 in search engines to get you more business. Please keep up the good work now I have left a review.
What a terrific company I have discovered, not only do they do superb websites they also help you rank in the search engines too! Will recommend to my friends and family for sure.
Kishore R.
12:49 14 Dec 17
Top web design company indeed. Not only are they great to work with, I also they think they will become friends too. Top marks for support, top marks for service and top marks for value for money!!!!
I highly recommend! Fantastic team and great help. Thank You.
JG Vet Physio & Photo A.
17:08 12 Dec 17
Thank you guys. We have had many problems before with web design companies and have at last found one that can be trusted, top marks and keep up the great work.
I picked out iwebsitez from a Google search looking for website designers geographically convenient to my activities. I'm secretary of a large(ish) prostate cancer charity and knew nothing about website design and not much about computers but, for various reasons, we knew that our old website needed to be replaced.I knew what I wanted to achieve but didn't know how to achieve it. Pete and the team seemed to know what they were talking about so we set off. My ideas came up against technological limitations and I had to push to understand why things could not be achieved. The result, as always, is a compromise. The first stage is to get the site live and then we will consider adding bells and whistles.Pete and the team are busy with various projects - always a good sign - but always seemed to have time to explain but you have to push. Like most computer people, they race on ahead bashing keys, talking in jargon with screens flashing past my eyes and sometimes have to be dragged back to explain in English what they are up to and why they are doing this or that. Occasionally I had to say 'but I want it this way'.Also, you have to be clear about who is doing what. A couple of times days passed when they and I each thought the other was doing something.However, having said that, I am pleased with the result, the price was reasonable and no-one in the charity has (yet) complained. I will have no problem in returning to iwebsitez for the next stages and would certainly recommend anyone to talk to them. You'll be pleased with the results you get.
We was having some issues with our website and wasn't able to resolve it ourselves so we hit Google and found a list of local web developers. Lucky for us we found iwebsites, we called them and the phone was answered promptly. We was given a very warm welcome and was connected to a very helpful engineer Pete, who not only resolved my problem within the hour, also took the time to advise on other areas I could improve myself.Really would recommend iwebsitez for a very professional service.
Cloud 4 S.
14:27 21 Nov 17
Fantastic service since 2013. Great advice and awesome website guys thanks!
Thank you - good service, more than happy with our site
An amazing service! Thank you so much for all your guidance and help. Highly recommended!!!
Customize Events (Party H.
11:37 06 Feb 17
Amazing company and great service. They build great websites and they do rank your website too! Highly recommended!
I can't express enough how good these guys are at there job. Pete and the team are amazing. They genuinely make what vision you have for a website happen plus so much more.Thanks guysIPhone ambulance
Professional but friendly service, always quick to respond to emails. They are happy to work with your ideas but will suggest alternatives if they are more beneficial.
Inbalance H.
16:50 18 Oct 16
My thanks to the whole team at iwebsitez. I'm really pleased with my new website. Pete, Raf and Lauretta are easy to work with, available at their office if you need to see them, and turn around any amendments very quickly. The whole thing came in on budget and on time.
Great customer service very helpful, I was a little bit rusty when it came to my website and iwebsitez helped me to sort out all my little issues, I will be recommending this local business to my friends.Thanks
I always wary about using family and friends in business but was ripped off by the last Web Design Company I used. I am not a computer literate person and in fact hate technology but realise the importance of a website. As a Sales and Marketing person it was imperative that the people designing my site understood my needs, fast hosting, user friendly, easier registered domain names and an ability to contact someone who would speak to me in a language I understood, with patience. My husband owns and runs iwebsitez. I can say I am his best and worst critic. Using him, was the best business decision I made. And not because I'm his wife but as a business professional, he did everything he said he would do and more. Very happy and highly recommend.
The best hosting I have used so far, never had any problems with my website. The prices are awesome, and the crew is very helpful. They deserve at least 5 stars.
Mateusz M.
13:45 24 Dec 14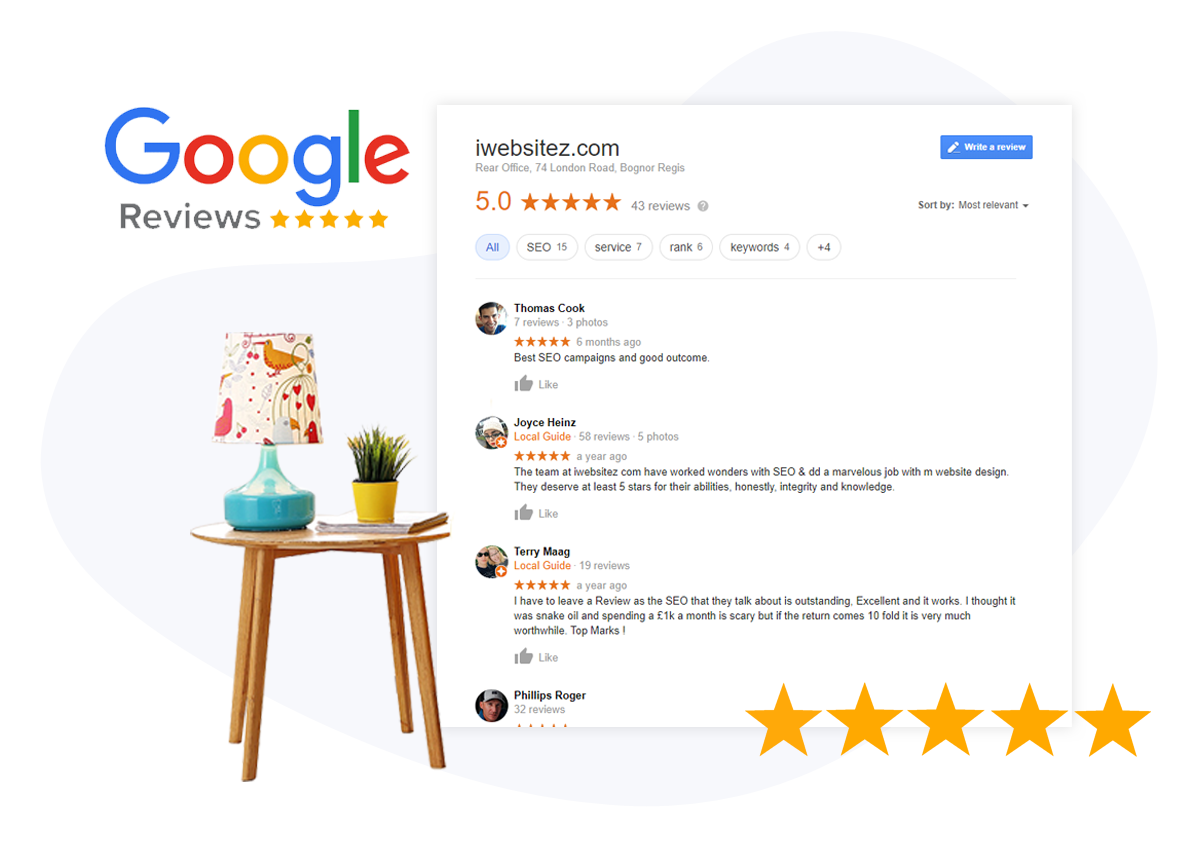 Ask a question about selling online
Ecommerce website design FAQ's